About
March 16, 2021
2023-10-01 12:57
About
AnuBose Institute of Technology
AnuBose Institute Of Technology(ABIT),located at Paloncha- an industrial hub in BhadradriKothagudem district ,is sponsored by the National Educational Trust, Paloncha. The members of the trust are eminent personalities in various walks of life and dedicate their selves to the cause of education. In light of this, ABIT has been established in 2008 with special attention to the technical education and approved by AICTE, New Delhi and affiliated to the premier and world renowned Jawaharlal Nehru Technological University, Hyderabad.
The ABIT expands itself as "Always Best In Technical-education" by making use of the latest technologies and quality teaching. It lays emphasis on innovative research, investment in high-quality facilities and first-rate infrastructure
AnuBose Institute of Technology (ABIT) strives to make students confident and creative builders of their future. ABIT believes learning is maximized when it takes place in an environment enriched with support, encouragement and assistance. In ABIT we encourage the students to meet academic challenges with openness, enthusiasm, and a willingness to solve problems. We provide a rigorous, academic program through which effective educators lead students to take responsibility for learning. To raise itself as a centre of excellence through integrated educational, academic and industrial research and consultancy services. To actively participate in the development of technical manpower and physical infrastructure for enhancing the country's credibility and stature. To undertake cooperative research in the industry for upgradation of current technologies and development of new ones, to improve quality and cost effectiveness, while participating in the ongoing process of globalization. To play a noble role for making significant contributions for social upliftment through technical education.
To flourish as a centre of excellence for producing the skilled technocrats and committed human beings
IM1: To create conducive environment for teaching & learning.
IM2: To impart quality education through demanding academic programs.
IM3: To enhance career opportunities by exposure to recent & industries technologies.
IM4:  To develop professionals with strong ethics and human values for the betterment of society
We, at ABIT, are committed to achieve academic excellence, impart high quality technical education, training, expertise in various engineering programs; thereby enhancing the intrinsic abilities, capabilities, thinking process of students besides promoting their engineering and technological skills. We are committed to comply with the requirements and continually improve the effectiveness of quality management system.
To provide state of the art technical infrastructure and motivate students to realize their own potential.
To provide a sound academic and research environment to students for a complete learning experience.
To provide technological and managerial skills and ensure all round development of the students.
To offer quality relevant and cost-effective programmes to produce engineers as per requirements of the industry and other sectors of employments.
To offer research & development, testing services and customized training to meet specific needs of the industry thereby promoting self-employment& entrepreneurship amongst students.
Dr. N. V. Subbarao,PhD
B.Tech, M.Tech, Ph.D. (JNTUK),
"Our vision is based on hard work, open communication, a strong emphasis on team work and a high level of responsibility. This visionary culture allows and emphasises our wards not only to adopt the present day challenges but also individual responsibilities to the society and our nation at large. Learning should be based on doing things and not merely knowing things. Until and unless learning solutions relate to real life and motivate the learner to acquire and apply the knowledge, the whole process will remain superficial. Any engineering institution worth its name looks to optimize the productivity of global leaders. Our institution has set specific objectives and planned activities for achieving excellence in all spheres of technical education. The service of the institution in creating personally mature, professionally equipped and service-oriented graduates is really worth mentioning. We strongly believe in academic excellence and do not compromise on teaching standards or discipline. These three things are the springboards on which we operate. People who feel good about themselves produce good results and people who produce good results feel good about themselves. We also believe in total learning and sharing. Have a visit to ANUBOSE and feel good to get good education"
Philanthropist, Educationist, Visionary…..  are some of the attributes which have been associated with Chairman T Bharat Krishna. At a very young age, he proved himself as an excellent academician. The establishment of this college has fulfilled his long cherished dream of starting an Engineering College to serve the student community by offering technical education in both conventional and hi-tech disciplines of engineering with all the state-of-art facilities. His main objective is to promote an educational institution for the overall benefit of the country in general, and the state in particular. "A person who dares to dream big and commands the ability to realize it".  In the year 2008 he established Anubose Institute of Technology Under National educational Trust with a vision to bring out the rural talent to the forefront. He followed the foot steps of his Guru, Sri. T Bose, The former Chairman, National educational society, inducing innovative administrative practices, introducing modern teaching methodologies and providing International standards of infrastructure. ABIT will remain as one of the best engineering colleges in India wherein he continues to put his maximum effort and avid interest in its continual development. Growth of which the prime beneficiaries will be the students.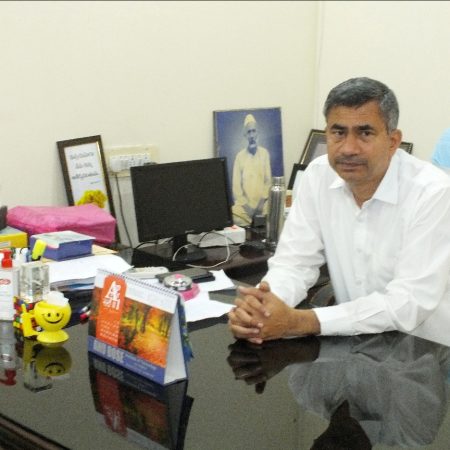 Dr. N. V. Subbarao,PhD
B.Tech, M.Tech, Ph.D. (JNTUK),
Dr. N.V Subba Rao has twenty two plus years of academic experience in teaching and administration. He obtained a Doctoral Degree in Electrical Engineering from JNTUK, Kakinada; Master Degree from JNTU, Hyderabad and B.E Degree from Andhra University, Visakhapatnam. He has published 16 research papers in various reputed National and International journals till date. He also presented more than 02 research papers in various National and International Conferences.  He is a member of various professional bodies such as ISTE and IETE.